Benchtop Sulfur Analyser in Petroleum Products by
X-Ray Fluorescence Spectrophotometer Model XRF-S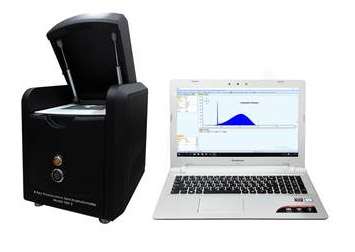 Key Features:
Benchtop design for on-site or lab use for Sulfur in Petroleum Products
Small foot print with PC connection
Complies with ASTM D4294, ISO8754, ISO20847 and IP336
No sample preparation required
The sample cup is designed of the same height, which ensures the measurement data to be accurate and saves the consumption of the standard sample and the gas.
Small sealed helium gas sample chamber saves gas consumption and reduces test costs
Shortest sample distance on top of detector improves test accuracy
Rapid analysis with test result delivered within 50s at minimum
Small quantity sample size without special handling tools
High excitation efficiency side-window with W target X-ray tube
Large area SDD detector, together with good dissipation capability ensure the high test stability
X-ray radiation shielding design ensures operators safety during operation
Easy to use software with both qualitative and quantitative analysis   
Technical Specifications:
| | |
| --- | --- |
| Analysis:     | Sulfur in Diesel, Fuel Oil, Crude Oil   |
| Analysis range:   | 3 ppm - 99.99% |
| Test time: | 50 to 100 seconds  |
| X-ray tube:     | 50W X-ray tube, W target, 50kV, 1000µA |
| Filter:   | 3 sets of filters, automatic switching |
| Detector:   | SDD |
| Limit of Detection:    | 10 ppm / 3 ppm under the Helium purging condition |
| Sample Forms: | Liquid         |
| Sample cup volume: | ø 24 mm×22 mm |
| Sample Volume: | 5 to10ml        |
| Working temperature: | 10 to 35 °C |
| Relative humidity: | < 70% |
| Voltage:   | 220 VAC, 50 Hz       |
| Instrument Dimension: | 370 mm×360 mm×418 mm |
| Weight: | 32 kg |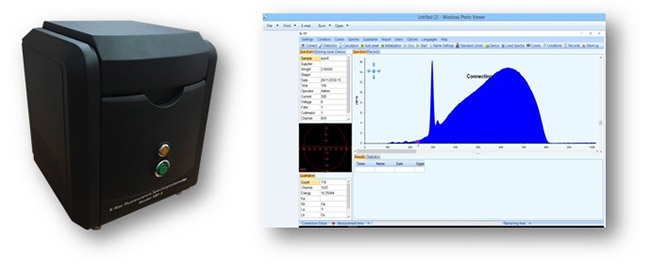 Scope of Delivery:
Sealed Helium gas sample chamber
SDD Detector
Signal detection electric circuit
X-ray tube
High and low voltage power supply
Open sample chamber
Qualitative and Quantitative Analysis Software
One set of PC with licensed Windows operation software
Sample Cups, pack of 200 pcs
MONOCHROMATIC WDXRF
ULTRA-LOW SULFUR XRF SPECTROMETER
Model: Ultra-S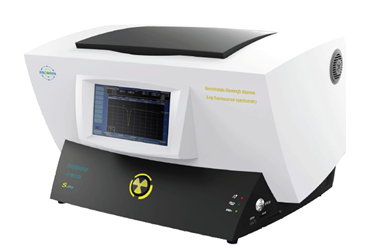 FEATURES AND BENEFITS
• HIGH SENSITIVITY AND ACCURACY
Johansson-type DCC system
Advanced design of beam path
• HIGH RELIABILITY
After first fine tuning in factory, appears never the optical path displacement, maximizing the reliability in long run.
• EXTREMELY LOW MAINTENANCE COSTS
No conversion gasses
No vacuum requirements
Self-aeration system.
• CONVENIENT DRIFT CORRECTION
No need to establish the working curves frequently.
• EASY OPERATION
Intuitive touch screen
Just plug-in and measure
Measurement time: 60~300s
APPLICATIONS:
• Total sulfur analysis from ultra-low sulfur gasoline to kerosene, diesel, lubricant, naphtha, and heavy fuels.
• Total sulfur analysis of ultra-low sulfur chemical products.
• For use in petrochemical industry, refinery labs, pipeline terminals, additive plants and inspection laboratories.
• Complies with ASTM D7039, EN ISO 20884, JISK2541-7

Product Specifications
Limit of detection
1 0℃ ~35℃
Calibration curve for low concentration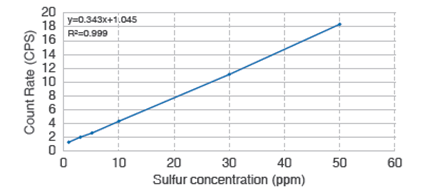 alibration curve for higher concentration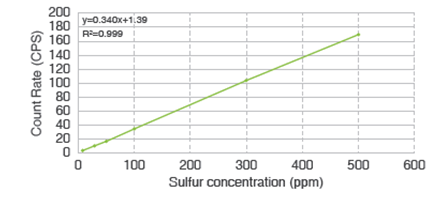 Results of sulfur in the same gasoline sample
RSD: 4.41%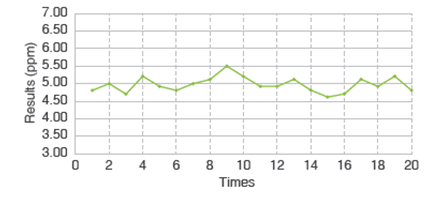 Results of sulfur in the same diesel sample
RSD: 0.94%